1 August 2023
reading time 4 min.
Back to work with these eco promotional gifts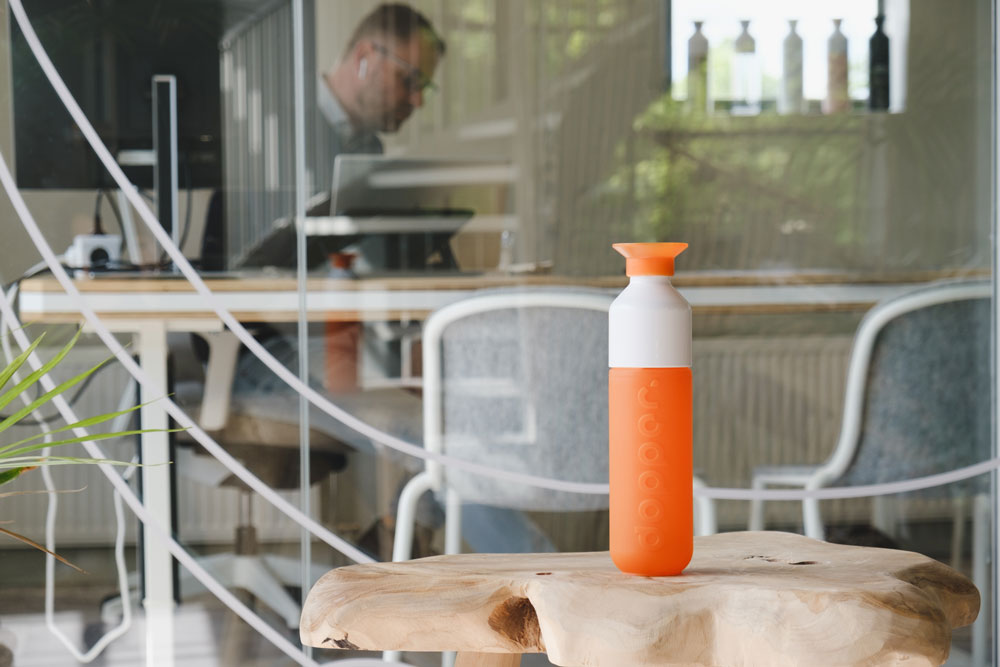 Greengiving
Many people are still enjoying their holiday, though that'll soon be over. From end of August, schools and offices are filled with people and work is getting done. It's a great moment to surprise everyone with a new notebook, pen or reusable bottle. In this blog, we'll give you 10 ideas for sustainable promotional gifts that are perfect for the office, at school or at home!
Notebooks come in lots of different sizes and colours. We'd like to add another one: an A5 notebook with a cover made of recycled plastic. Have your logo full colour printed and you've got a great promotional gift. Last but not least, these notebooks can be delivered quickly.
It's a real classic with a modern twist! This popular cardboard ballpoint pen has a touch tip, which means it can also be used on screens, such as a tablet. The pen can be full colour printed with your logo or text. This one can also be delivered quickly, which is prefect when you need a (new) stock of pens as soon as possible!
Dopper has been populair since day one, and it's still a great promotional gift. This bottle is putting single-use water bottles out of business, because it can be reused over and over. That's the idea behind the Dopper: reduce the plastic waste in our oceans. When everyone uses a Dopper, we can make a huge effort together. The Dopper can be full colour printed with your logo or text. It's available in a range of beautiful colours!
To makes notes properly, a good notebook or notepad is essential. This memo pad makes studying even more easy because of the sticky notes. It's made of recycled cardboard, so consider this a real eco promotional item. Everyone who needs to write every now and then will be happy with this gift!
On many desks you will find a calculator. Especially when you're dealing with numbers all the time, a calculator is perfectly useful. You'll make people happy with this sleek design. Last but not least, this calculator works on solar energy, so it's a real sustainable gadget.
A pencil is just a pencil, you'd say. Well, that's certainly not the case when it comes to a Sprout pencil. It contains a green capsule with seeds. As soon as the pencil is done, this capsule can be put into th soil. After a while, flowers or herbs will start growing (depends on the seeds you've chosen).
The best way to say goodbye to paper notebooks that get full all the time. With the notebooks of MOYU, Bambook and Correctbook, you can make notes, digitalize them with the app and then erase them. This way, there's no waste of paper and you can make notes endlessly. For every Bambook or MOYU notebook sold, a tree is planted. For every Correctbook sold, a kid in a developing country receives a Correctbook Writing set. If you're looking for a promotional gift with a story, here it is.
This might sound crazy, but we've even got eco-friendly highlighters. This one is made from recycled plastic. It's an essential item when studying or working and an original alternative to a promotional pen.
To make sure nothing gets lost, a pouch is perfect. This one is made from jute and cotton, so consider this a real sustainable one. It's a great promotional gift or giveaway that everyone can use!
Looking for a pen that looks and feels like nature? Go for a pen made of bamboo. The material is perfectly sustainable and looks like it's coming right from the tree. These pens are also very sturdy and last long.
Have you find enough inspiration? In case you'd like more, you might want to check out our selection of sustainable office items. Should you have any questions or do you need advice, don't hesitate to get in touch with us. We're happy to help!
11. Bonus
Alright, just one more. Want to surprise your employees when they get back to work after the holidays? Give them a Tony's Chocolonely chocolate bar. It's delicious fairtrade chocolate, available in no less than 16 flavours. You can have it personalized with a customized wrapper!
Follow us on social media
Be the first to hear about our news