6 June 2022
reading time 4 min.
10 best promotional summer gifts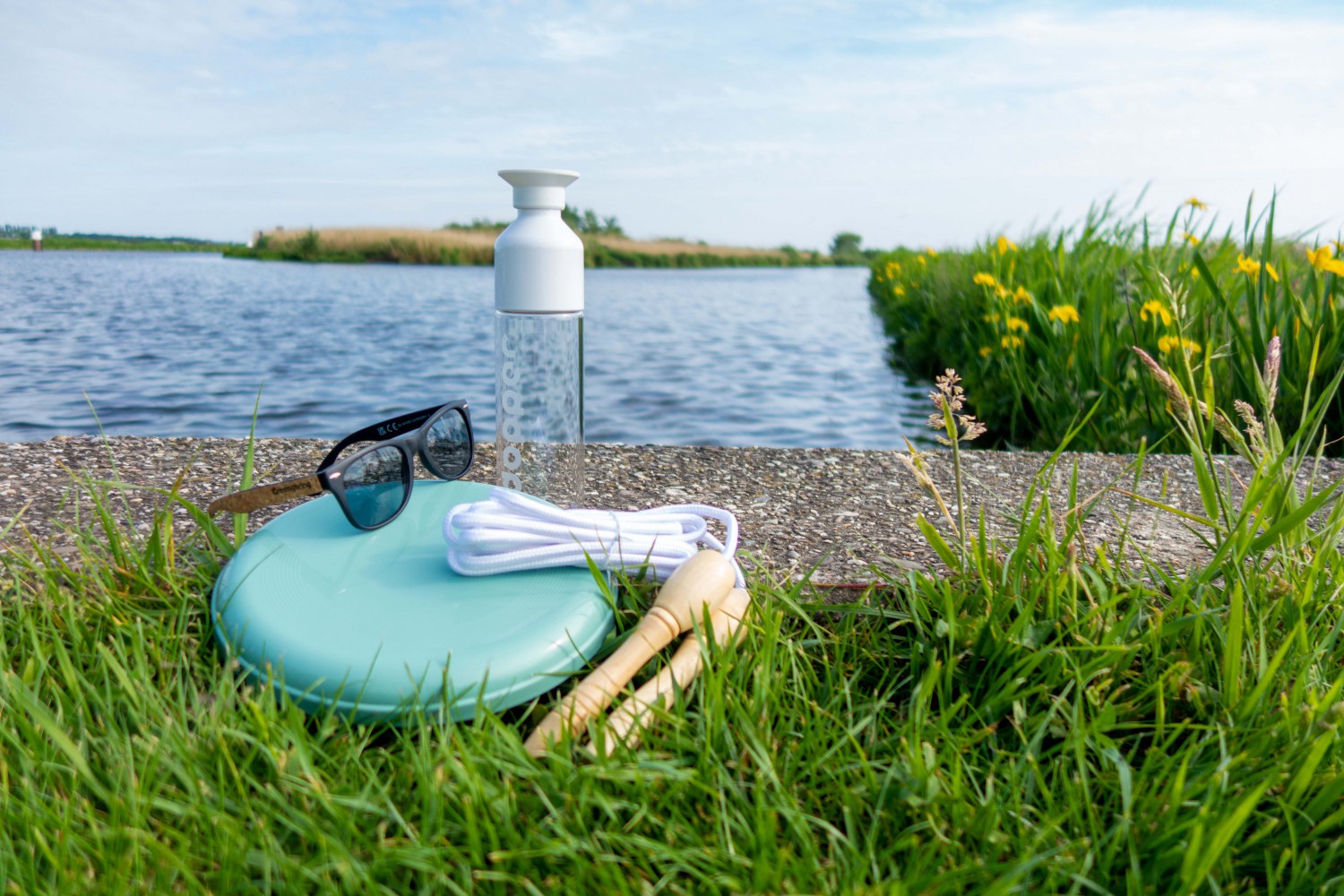 Greengiving
It's summer time! Most of your employees or customers will enjoy a holiday. That's a perfect moment to hand out a promotional gift that they can use during their holiday. Your brand will get lots of exposure! We've put together a list of our 10 best summer gifts, check them out here.
1. Dopper Insulated - thermosbottle
Cold water during a warm summer day is absolutely essential. That's why this unique Dopper Insulated bottle is a perfect promotional gift for your employees or clients. It keeps water cold for 24 hours! On top of that, it a beautiful sustainable bottle which prevents single-use plastic from entering the ocean. The Dopper Insulated is also available in a smaller size (350ml).
2. New: unique summer gift sets
Would you like to give away multiple items? Check out our new summer gift boxes. For example the Fairtrade travel set, or the sports gift box or the Retulp gift set. You can also opt for a Dopper with towel, packed in a box made of straw paper.
3. Sunglasses
With eco sunglasses, you'll certainly leave a lasting impression on your clients or prospects. Discover our range of sunglasses, such as sunglasses with cork arms or the bamboo sunglasses. Consider this a great way to promote your brand in an eco-friendly way!
4. Solar powerbanks
Lots of people drive to their holiday destination and spend hours in the car. Or go out on a long hike or outdoor trip. That's when a powerbank comes in extremely handy. Discover our collection of solar powerbanks.
5. Wooden outdoor games
Most people like playing games. Whether it's indoor or outdoor, playing a game together always means fun and relaxation, and some competition of course. A wooden game is therefore perfect as promotional summer gift, for example the famous Kubb game or the beach ball set.
6. Cool bag
A cool bag is another essential item during summer. It's perfect for taking with you and keeping food and drinks cold. We've got a paper cool bag, a jute cool bag and a cool bag made of recycled plastic. Have your logo printed on it and you've got a beautiful eco gift that will certainly be appreciated!
7. Eco frisbee
A frisbee is a fun way to get your message across. It's a nice game that will played a lot during summer holidays. We've got a number of frisbees, such as this bright frisbee made of recycled plastic or the frisbee made of bamboo fibre. Your customers or employees can play a nice game when on holiday!
8. Eco cotton bag
Chances are your clients or employees will be travelling during the summer holiday, so a good travel bag is essential. This 100% cotton bag is very practical, because it can hold lots of items and can be folded when it's not used. Have your logo printed on it and your brand is sure to be a hit during the summer holiday!
9. Hammam beach towel
What's essential when you go to the beach? A towel of course! This large Hammam beach towel is made of 140 gsm recycled cotton and recycled polyester. The towel is sized 75 x 150 and is available in 3 beautiful colours.
10. Water bottles
Last but not least: a reusable water bottle always comes in handy, especially during summer. We've got lots of different bottles to choose from, such as the Dopper bottles, Retulp bottles or thermos bottles. All bottles can be printed with a logo, text or even a name.
Looking for more inspiration? Discover our page with summer gifts, we've got something for every taste!
Follow us on social media
Be the first to hear about our news