2 October 2023
reading time 5 min.
Erasable notebooks Correctbook, Bambook and MOYU: what are the differences?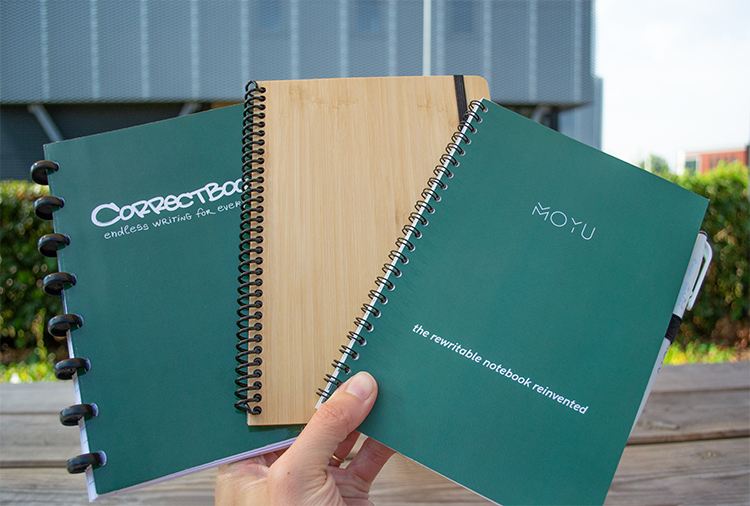 Greengiving
Our assortment with erasable notebooks is growing. We started with the notebooks from Correctbook, then Bambook got on the market and recently we added MOYU notebooks. They all have erasable pages, which means less paper is needed and forests can be kept intact. We were curious how these notebooks differ from each other. That's why we did a little test to compare them, and here are the results.
Why reusable notebooks?
Notebooks are still very popular as corporate gift or promotional giveaway. No surprise there, because notebooks come in very useful during meetings, conferences or when working. Extra benefit: writing enables you to rembember things better and for a longer time. 'The pen is mightier than the keyboard', as said once. Of course the next question is, why would you choose for a reusable notebook instead of a regular notebook?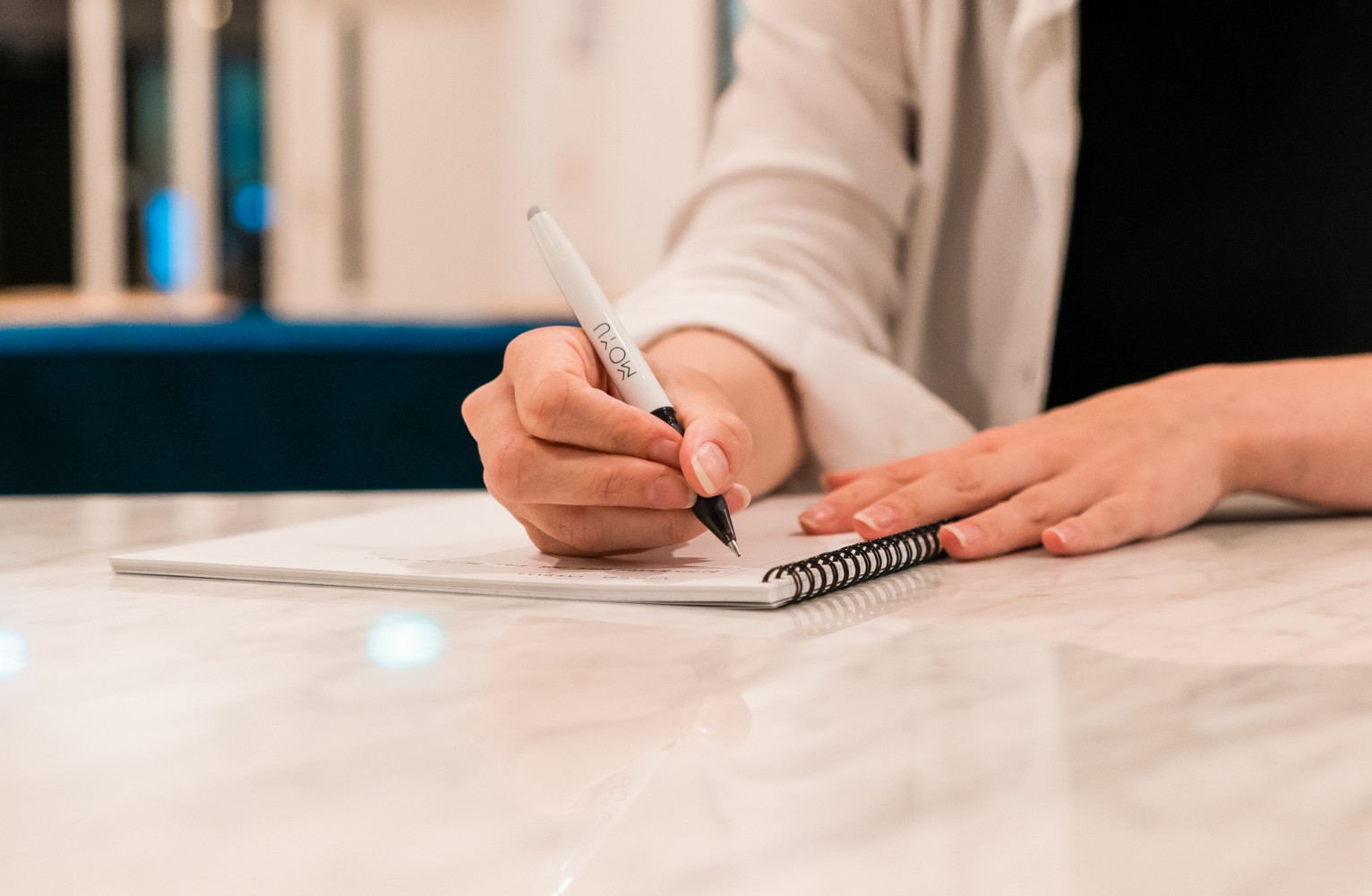 The downside of regular notebooks is that they can only be used once, which means you need a new notebook from time to time. That's not the case with an reusable notebook. Thanks to the erasable pages, you can use the notebook endlessly. And that implies less paper waste, less deforestation and a larger positive impact.
Have erasable notebooks printed with your design and give these stylish, sustainable notebooks as a gift to your corporate relation, business partners or clients. That way you can show them you care about the environment and that reusing items is important to you and your company, also when it comes to corporate promotional gifts.
Last but not least: the longer these notebooks last, the longer your company or business will be visible!
Bambook vs Correctbook vs MOYU
Before actually buying a reusable notebook, you might want to explore the various options before deciding which notebook best fits your wishes. At Greengiving, you can choose between the brands Bambook, Correctbook and MOYU, which all have different versions and types of erasable notebooks. Of course it's nice to be able to choose, but to make a good choice you'll need to know the differences between these books. We'd like to help you with that.
In the table below we've put the information on the features right next to each other, which means you can easily see the differences between the brands.
Bambook

Correctbook

MOYU

Material cover

Bamboo or FSC-certified cardboard

Laminated paper

Cardboard

Material pages

Whiteboard paper

Whiteboard paper

Number of sheets

20

20

18 (40 in the luxury version)

Size

A4, A5, of A6

A4, A5, A6 or pocket

A5 and A5 luxe

Incl. pen

Yes

Yes

Yes

Incl. wipe cloth

No

Yes

Yes

Special scan-app

Yes

Yes

No

Per item sold...

… 1 tree is planted

… Correctbook donates the same erasable writing material to children in developing countries

… 1 tree is planted

Design of pages

Choice between 7 options, e.g. lined, to-do-list, dotted, graphs

Choice between 8 options, e.g. blank, lined, dotted or graphs

A5: lined

A5 luxe: 6 different designs

Elastic band

Yes

No

No

Available from...

50 pieces

25 pieces

50 pieces

Printing

Softcover: full colour customised design

Hardcover: engraving of logo, text or name

Full colour customised design on front and back

Full colour customised design on front and back

Made in..

The Netherlands, in sheltered workshop in Ede

The Netherlands, partly in sheltered workshop in Den Bosch

The stone paper is made in Taiwan, the books are printed in The Netherlands in a green printing company
* Correctbook also offers a hardcover -premium- version with specific printing options, though that one is not (yet) in the Greengiving assortment.
Write, scan and erase endlessly
Now we'd like to tell you something about the differences in use. All erasable notebooks work according the principle of writing, scanning and erasing. These three steps can be repeated endlessly, altough with MOYU a limit of 500x is mentioned. We don't have the exact calculation, but it's safe to say that you can save lots and lots of paper with these reusable notebooks.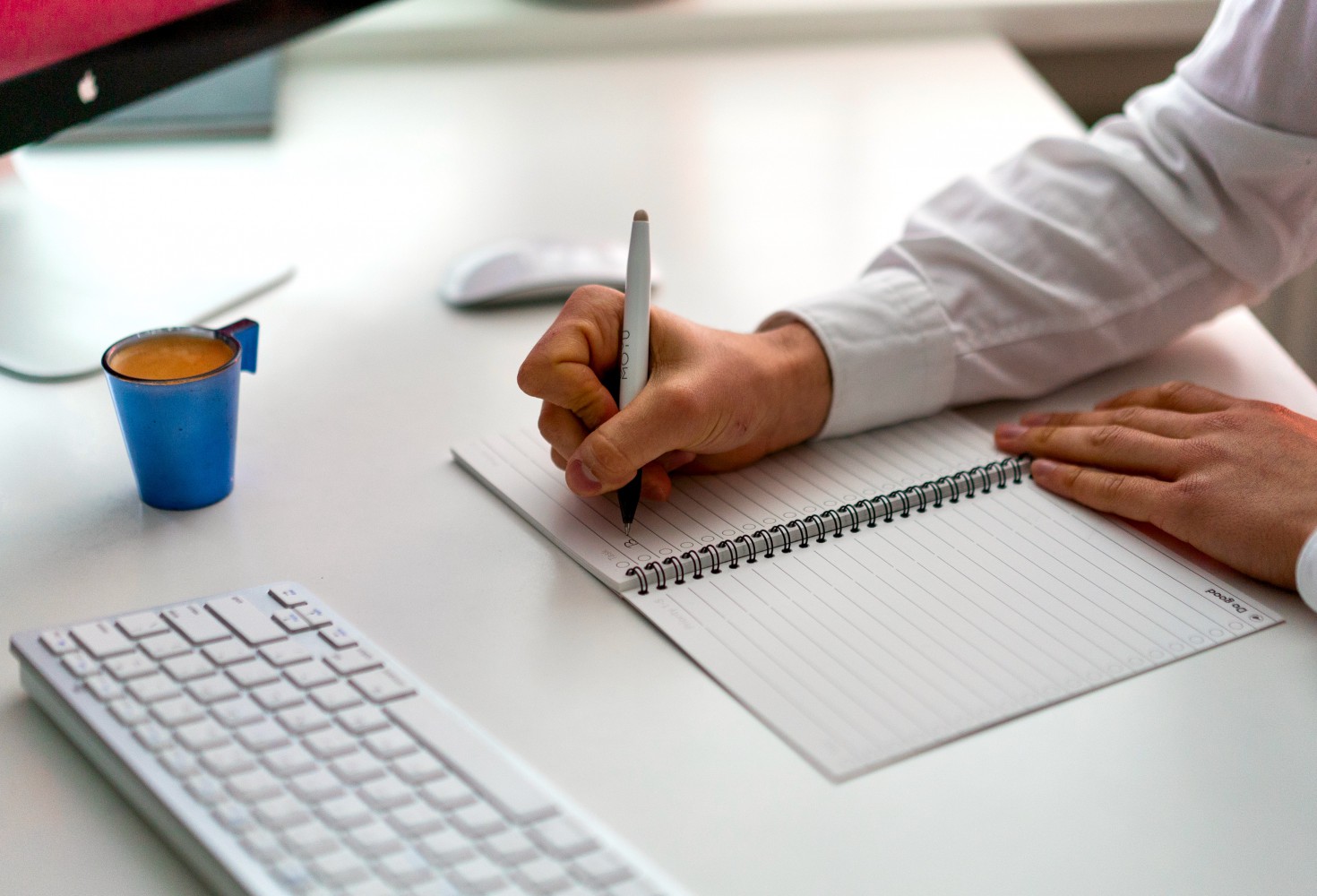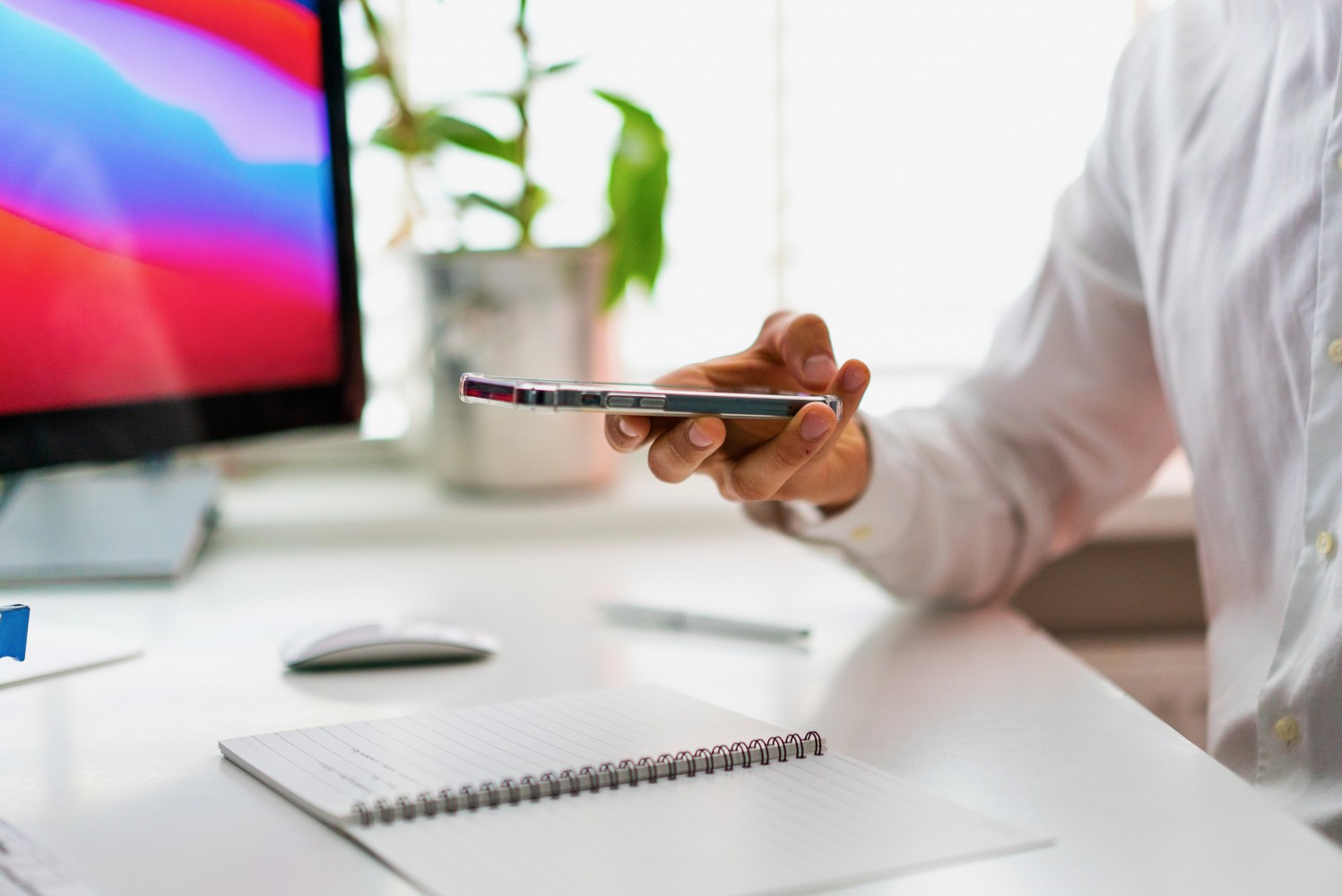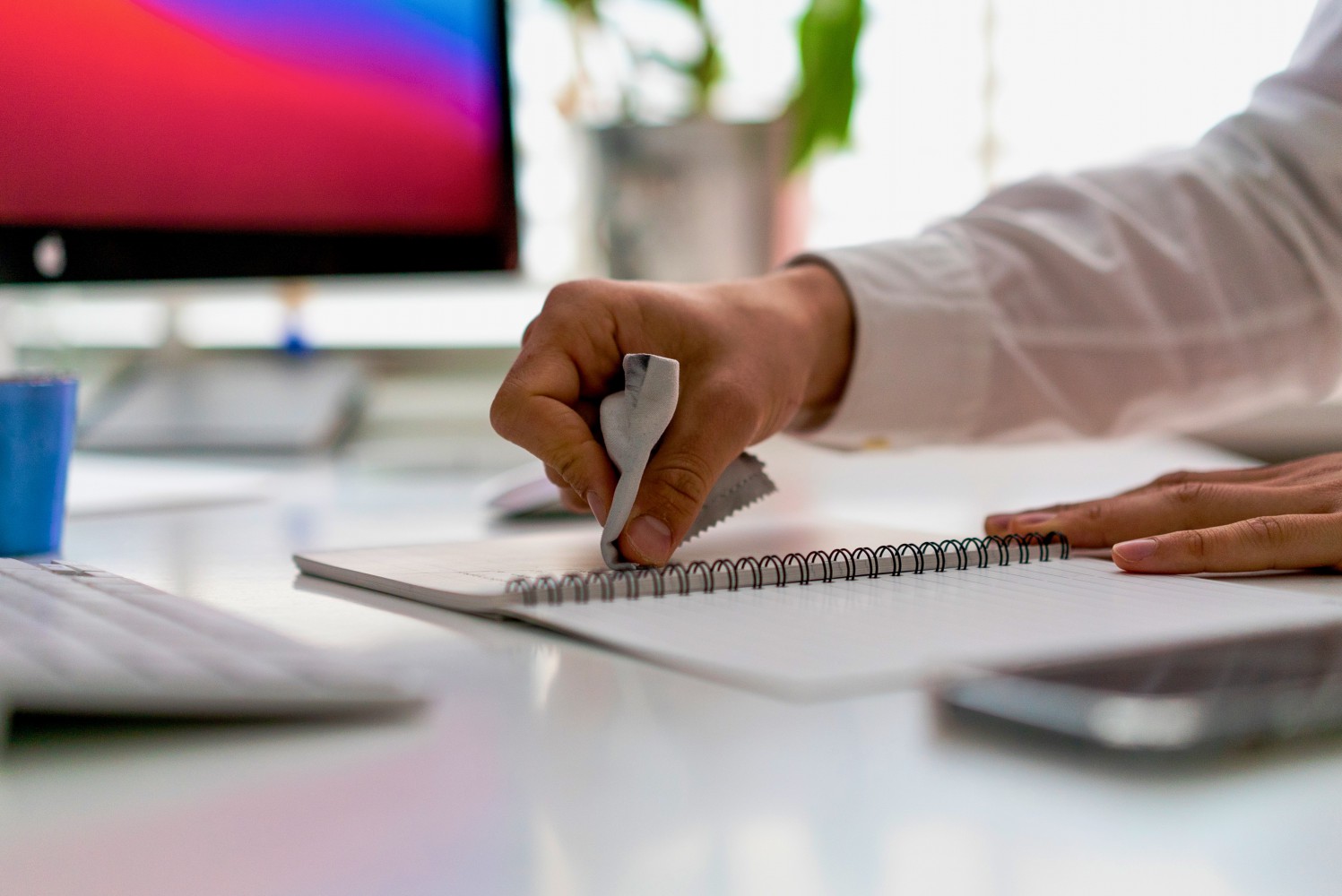 Write
The Bambook pages have a smooth, glossy look and feel. That also goes for the Correctbook pages, though they feel a bit more sturdy and are less smooth. This feels more like writing on regular paper. The MOYU stone paper pages however come out on top here, because writing on these pages comes very close to the experience of writing on regular paper.
The MOYU pen is white, the Bambook pen black and the Correctbook pen is light blue with a black cap. The MOYU pen has the most luxury finish, and is fill with special Frixion ink. In all cases, the ink dries within a few seconds. Be aware to put the cap on the pen, otherwise the pen dries out.
Good to know: writing in erasable notebooks also works for left-handed people, especially when the book is kept at an angle.
Scan
Both Bambook and Correctbook have their own app that can be downloaded in the App Store and Google Play store. The Bambook app can be connected to GoogleDrive, OneDrive and Dropbox, so you can save your notes rightaway. In the Correctbook app you can share notes with other apps such as WhatsApp, Dropbox and Outlook. MOYU doesn't have their own scan app (yet), so you can just use your favorite scan app.
Erase & clean
All pens have an eraser at the back. This works fine when you want to wipe out or correct something quickly after you've written it. In case the notes have been longer on the page, you have to press more to erase the notebooks. In the end, with all notebooks it's best to use a moist cloth. That's the quickest and easiest way to clean.
With Correctbook and MOYU, you'll receive a special microfibre cloth that can be washed. For Bambook, you can buy a special cleaning kit, though you can also use your own wiping cloth. Correctbook and MOYU also sell separate cleaning accessories.
Brands with a great story
As you can see in the table, each of these brands is committed to strive for a better planet. Want to know more about these brands? Click on the pictures below to read the stories of Bambook, Correctbook and MOYU.
Customised reusable notebooks
The great thing about these notebooks is that you can have them full colour printed with your own design, on both the front and back (except the hardcover Bambook). It's a great way to convey your message, in a way that suits your business and corporate style. You can find some very nice examples below:
Via the links below you can visit the productpages of our most popular erasable notebooks. On these pages you'll find more information about the product and the printing options.
What's next?
Now you probably want to know which notebook 'wins' our test. Well, we can say just one thing: there is no best notebook. It completely depends on your wishes and the features that you think are important. Do you prefer a more luxury notebook? Then we recommend the hardcover Bambook or the MOYU luxury notebook. Do you think a 'natural' writing experience is important? Then you best choose a MOYU notebook. Do you want a custom made notebook (choose the pages)? Then Bambook is the place to go. When it comes to sustainability and social responsibility, all brands have a great story, wo for that aspect you best read their brand stories and decide what appeals you.
Want to try one of the books? You can request a sample. Do you place an order in response to the sample, then the sample costs will be deducted from the total order amount.
Hopefully you'll be fully equipped to make a decision after reading this blog. In case you have any questions, don't hesitate to contact us. We'd like to help you choose an erasable notebook that fits your wishes.
Follow us on social media
Be the first to hear about our news