7 May 2018
reading time 4 min.
Customized eco-friendly tote bags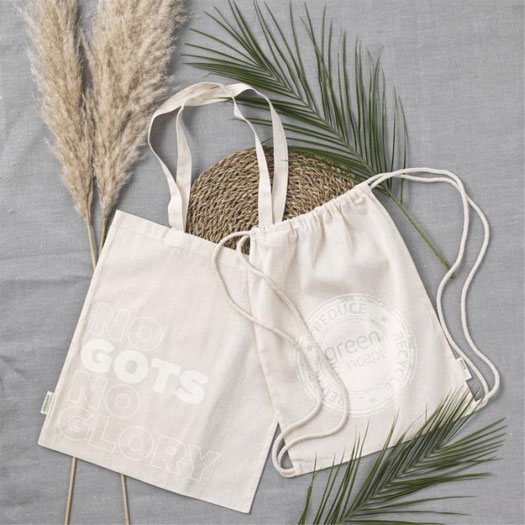 Branded tote bags are extremely popular. At Greengiving, you will find a large number of eco-friendly cotton bags, that can be printed with your logo or text. That's a great way to get your company on the stand and provide people with a practical eco bag at the same time.
Affordable tote bags printed
Are you looking for cheap cotton tote bags that can be printed? You've come to the right place. We've got an extensive range of cotton bags, either with or without print. Have them printed with your logo or text and the result is a perfect promotional item. Our tote bags are made of high-quality cotton or other materials such as canvas or even bamboo. They're perfect to use at a trade fair or event. With a customized tote bag your company is sure to be on the spot!
Customised tote bags
Tote bags are available in different types, sizes and colours. Apart from the standard print options it's possible to have cotton bags full colour printed. Before we start the printing process, you will receive a free digital proof that you'll have to approve. After that, your order will be processed and delivered as soon as possible. Looking for a small volume? We can supply cotton tote bags from 25 pieces. Large volumes are of course also possible, please get in touch with our sales specialists.
Eco tote bags with logo
You will find a large range of tote bags on our website. We've got bags with long handles and short handles, shoppers and backpacks. Most of the cotton bags are ecru coloured, but we've also got bags in a number of bright colours, such as red, green or orange. Some tote bags are made of heavy 280gsm cotton, others are more light-weighted. The great thing is that all our bags are sustainable and can be reused many times. Cotton is biodegradable, so that's a perfect alternative to plastic bags. We also got bags that are Fairtrade and GOTS certified, which means you can be assured that the bags are produced fairly and farmers receive a fair price for their products.
Follow us on social media
Be the first to hear about our news