18 September 2023
reading time 4 min.
The best sustainable corporate Christmas gifts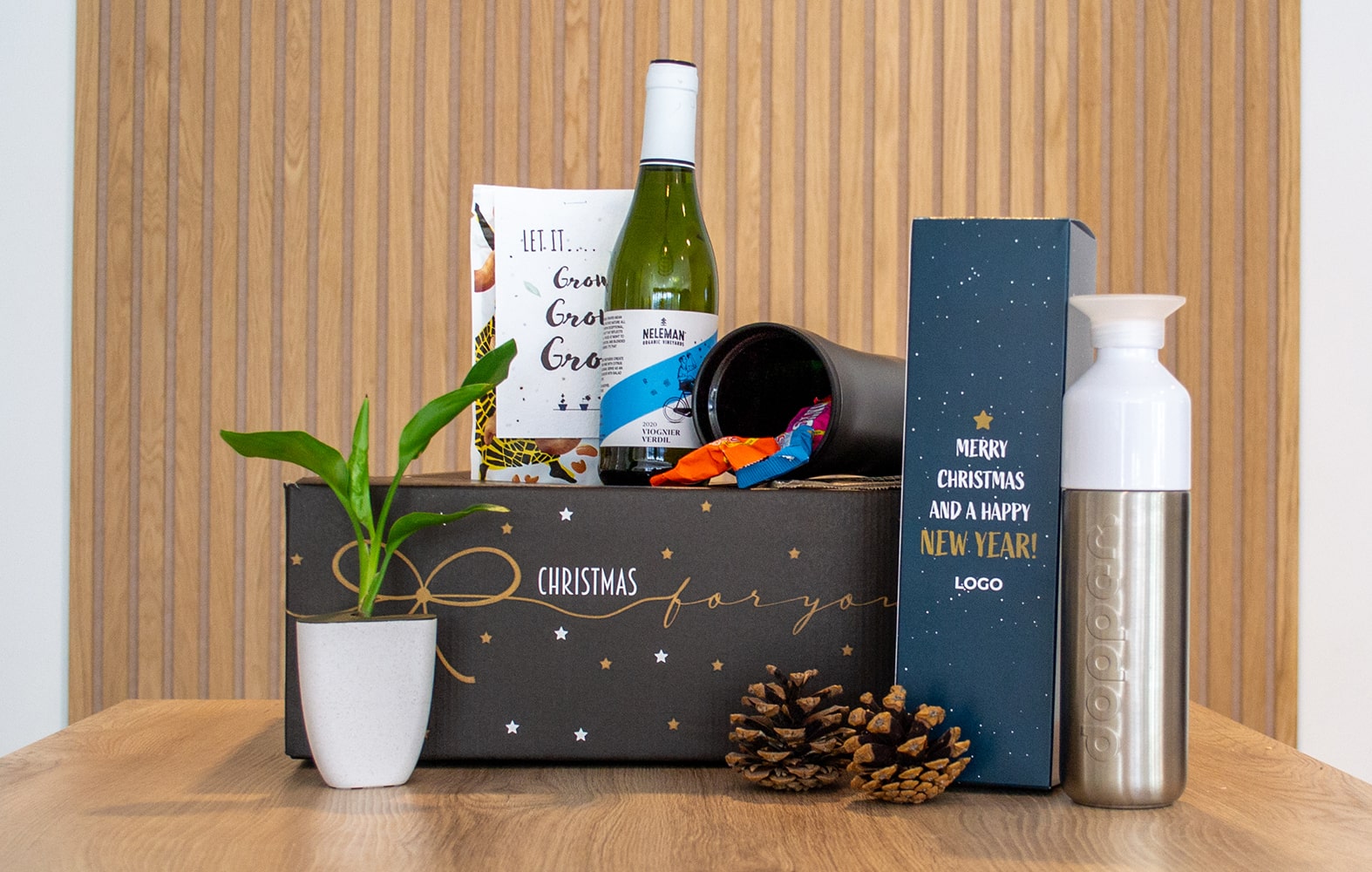 Greengiving
Holidays are coming! So this is the perfect time to consider your promotional merchandise activity and choose the best corporate Christmas gifts to thank your customers or employees. It can be quite hard to come up with something original every year, so we've put together an inspirational list for eco Christmas gifts that are absolutely impressive!
Giftsets with Dopper and Tony's Chocolonely
Products of Dopper and Tony's Chocolonely are always a good choice. If you really want to go the extra mile, consider these giftsets. Here the Dopper bottles and Tony's chocolates are packed together in a luxury bag or box. Best of both worlds! You can choose between different types, such as a Dopper Original gift set or the Dopper Insulated gift set, with the latter being available in both a large and small version. Looking for something else? Consider this travel mug, filled with Tiny Tony's.
Customised Christmas gifts
Are you on the hunt for a box that you can fill with items from our collection? You can opt for a customised gift box. Just request a quote and we'll get in touch to discuss the possibilities. On our page with special gift sets you can find examples of customised gift sets.
Sustainable thermos bottles
Autumn and winter are perfect seasons for thermos bottles. In our collection you will find various double-walled bottles and mugs, such as the famous Dopper Insulated and the stylish bamboo Retulp thermos bottle. You can opt for bottles with or without tea compartiment, larger or smaller bottles and travels mugs or cups. From 30 pieces, the Doppers can be presented in a customized gift box.
Tony's Chocolonely Christmas bars with wrapper
Food is always good when it comes to Christmas, especially when it's fairtrade and biological. For example, the Tony's Chocolonely products. These delicious fairtrade chocolate bars are perfect as a little extra at the end of the year. Tony's Chocolonely has got a really special Christmas bar, shaped like a Christmas tree. You can also opt for a 'standard' chocolate bar with a customized Christmas wrapper. New in our collection are the Tiny Tony's gift bags.
Bonus: in case you haven't got your own design, you can also choose for one of our designs. Just upload or email your logo and we'll make the design for you.
Unique (seed paper) Christmas cards
With a personal Chistmas card you can bring your best wishes for the holidays. In the Greengiving Christmas collection, you can choose between a seed paper card or a card with Tony's Chocolonely. The great thing about seed paper cards is that they can be put into the soil and after a while, beautiful flowers start growing. Do you prefer a tasteful card? Then discover our card with Tiny Tony's or the card with small Tony bar. For these cards you can supply your own design, but you can also use one of our designs.
Christmas gift tree
Looking for something green? Check out our tree in a box! You can choose betweeon beech or holly. The gift box can be fully customized. Another special green gift is the Sprout pencil. The capsule contains seeds to grow a spruce. A perfect little Christmas tree!
Sustainable packaging for your Christmas gifts
An unforgettable Christmas gift starts with a perfect wrapping. Our wooden boxes or seed paper bags are perfect as packaging material. You can also opt for eco wine bags, jute or cotton bags. Discover our collection here.
Follow us on social media
Be the first to hear about our news