Back to work with an erasable Correctbook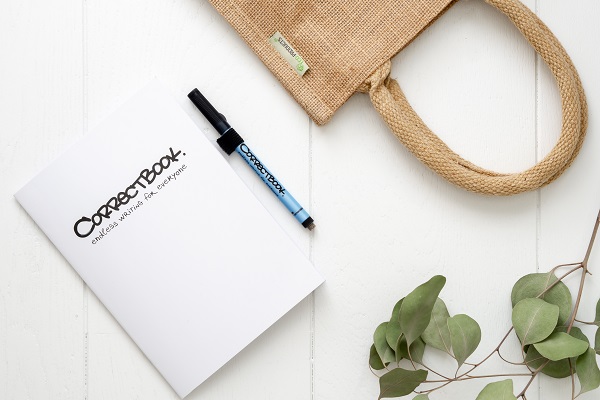 Of course, we prefer to do as much digitally as possible, but sometimes a notebook is just very useful for writing something down quickly. However, no ordinary paper is used for the new generation of notebooks. The revolutionary Correctbook is infinitely reusable thanks to the erasable pages. It is similar to a whiteboard, but with a writing experience like on paper - for example, the ink does not stain when you wipe over it. Read on for all the benefits of this magical notebook!
13 August 2019 - Reading time 3 min.
The system of writing and erasing is very simple. Erasing can be done with a (damp) cloth or simply with the eraser that is on the marker. Because the same notebook can be used indefinitely, it saves heaps of money, when using Correctbook large scale. In addition, no paper is used that prevents paper wastage. So at first glance there are already enough benefits!
Help the fight against illiteracy
Yet the biggest advantage of Correctbook is that Correctbooks are purchased from 25% of sales for children who attend schools with a lack of writing materials. These schools are often located in poorly accessible areas in South Africa, Nicaragua or Nigeria, which means they cannot be supplied in the usual way. Correctbook visits those schools to provide the children with lifelong writing materials. This way, they can learn to write and illiteracy is prevented with your Correctbook purchase!
Save notes with the app
It is not yet done with the Correctbook innovativeness, because are there any notes that you would like to keep? Then you can easily save them via the Correctbook app, so that you can still wipe out the page and use it again. Everything has been thought of! We can see why Correctbook has been chosen as promotional gift for the year 2017, 2018 and 2019. The notebooks are available in various sizes from A4 to A7 and your company name or logo can be printed on the front. A correctbook is extremely suitable as a gift for your staff, relations or customers!