Advice from our specialist
Laura is happy to help you
The story of Dopper
The Dopper bottle can be found in lots of homes, offices and schools. What's it that makes the Dopper so tremendously popular? First of all, it's got a beautiful sleek design. Tough more important is Dopper's mission of saving the oceans. The bottle has become a symbol of a sustainable lifestyle.
The mission of Dopper
Saving the oceans. That's Dopper's mission in just one line. 8 million tons of plastic waste make their way into our oceans every year. This plastic does not decompose, it just breaks down into tiny pieces that are really hard to clean up. By using a Dopper and filling it with tap water again and again, you're able to prevent single-use plastic from entering the ocean. So it's really an ocean-saving device.
Each bottle sold helps Dopper to make impact worldwide. With the revenues they invest in education programmes, research and awareness campaigns. It also kick-starts clean drinking water projects in Nepal. Dopper empowers people to choose a reusable water bottle over a single-use one.
Design Dopper bottle
The Dopper bottle consists of 3 parts:
Coloured bottle with large opening
White cup with small opening
Coloured flat cap
The Dopper is a bottle and cup in one. That's of course brilliant and very useful. All Dopper bottles consist of these three parts, which gives it a unique appearance.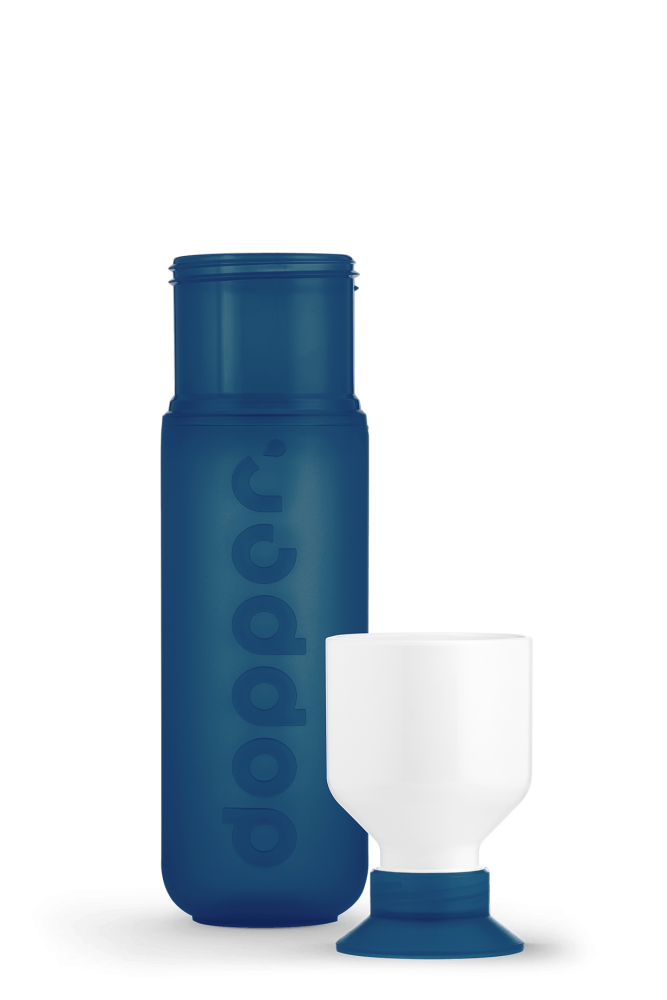 Why Dopper as promotional gift?
1. It's a much-used product
A reusable bottle often plays an important role in someone's daily life. With a branded Dopper, your logo is sure to get every attention!
2. It encourages reuse
The bottle is robust and sturdy, which means it can be used endlessly.
3. It's got a great story
Dopper wants to save our oceans and prevent single-use plastic waste. By choosing a Dopper as promotional gift, you contribute to that mission.
4. It's trendy, stylish and very popular
The Dopper is well-known and very popular, and is sold a million times each year. No doubt it's the perfect promotional gift.
5. Give three times!
You give a fabulous gift to your business partners, customers or employees. You contribute to projects for clean drinking water and you contribute to a better world.
6. Full colour printed
The Dopper can be printed on the white cup with your logo or text. It's even possible to have the bottle printed with names.
Authorised Dopper Reseller
Dopper works together with a select number of partner

s for the B2B-market, the so-called Authorised Resellers. That way, Dopper wants to guarantee and maintain the high quality status of the Dopper, also when it comes to branding the bottles. Greengiving is one of those Authorised Resellers, which means we're authorised to sell branded Doppers for businesses.
Doppers with logo
To have your Doppers customised, you can have them printed with your logo or text. Printing is done on the white cup. We offer various options:
Full colour print of your logo or text (CMYK colours). You can opt for a large (65 x 35 mm) or a small (25 x 35) print.
You can also have the Doppers printed with names. That's great when you want to surprise your staff with a personalised Dopper bottle.
Please note: it's not possible to opt for a wrap around print.
Dopper bottles
The Dopper collection has expanded with thermos bottles, glass bottles and stainless steel bottles. Though each bottle has the unique Dopper design.
Dopper Original

Dopper Insulated

Dopper Glass

Dopper Steel

✔ 13 colours
✔ Full colour printing

✔ Produced in the Netherlands

✔ From 12 pieces

✔ Holds 450 ml

✔ Cradle to Cradle Certified™

Silver

✔ 6 colours
✔ Thermos bottle
✔ Full colour print

✔ Available in 350 en 580 ml

✔ From 12 pieces

✔ Cradle to Cradle Certified™

Bronze

✔ Strong borosilicate glass

✔ Holds 400 ml

✔ Full colour print

✔ Also available as thermos bottle

✔ From 12 pieces

✔ Winner Green Product Award

✔ Cradle to Cradle Certified™

Bronze

✔ Cool and robust look

✔ Made of stainless steel

✔ Holds 800 ml

✔ Available in 4 sizes

✔ From 12 pieces

✔ Cradle to Cradle Certified™

Bronze
Dopper bottle sizes
The Dopper is available in various sizes. Below you can find the contents of each bottle in ml.
350 ml - Dopper Steel (small)
350 ml - Dopper Insulated (small)
400 ml - Dopper Glass
450 ml - Dopper Original
450 ml - Dopper Glass Insulated
490 ml - Dopper Steel
580 ml - Dopper Insulated (groot)
800 ml - Dopper Steel
1,1 litres - Dopper Steel
Accessories
To make your Dopper extra special, you can opt for the following accessories:
Sportcap: it makes your Dopper perfectly suitable as sports bottle. The sportcap is available in 3 colours and fits on the Dopper Original, Dopper Steel and Dopper Solid Steel.
Carrier: great for attaching the bottle to a bag.
Dopper giftbox: a perfect box to present your Dopper. You can have it fully customised.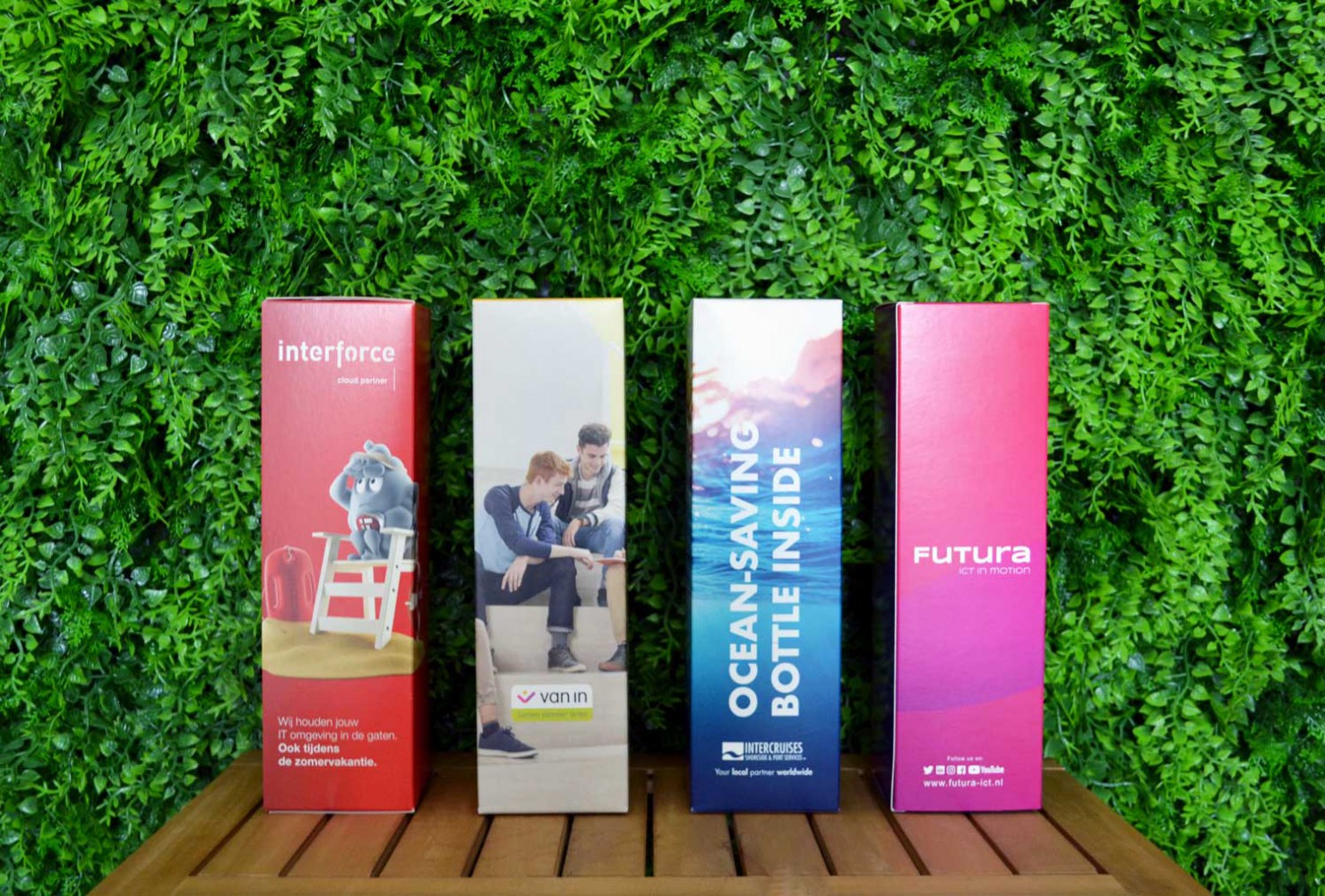 Join the Wave
Would you like to do more than just giving away Dopper bottles? Join the Dopper Wave! When signing this document, you pledge to: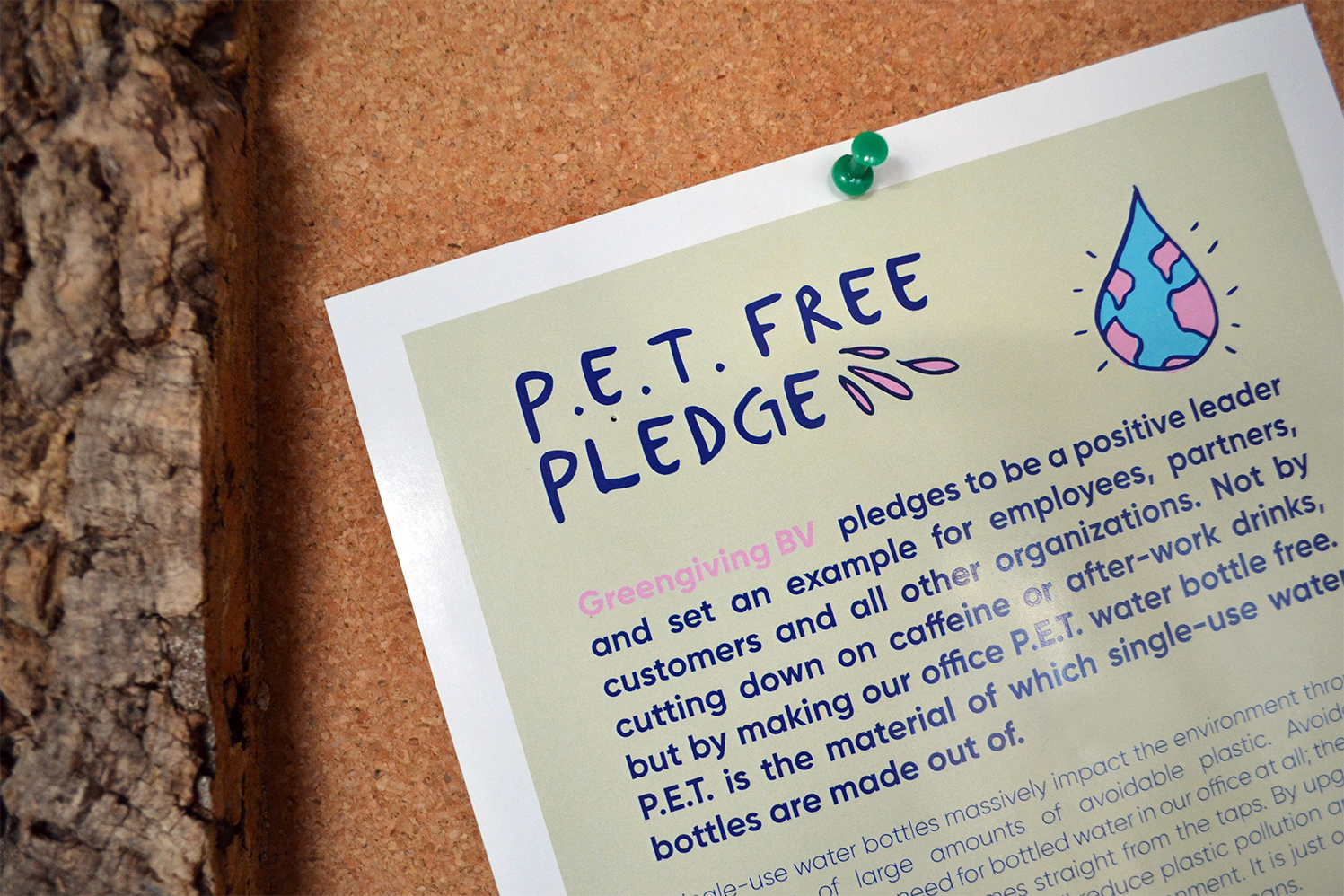 1. Get rid of single-use water bottles in your company
2. Encourage colleagues and visitors to drink tap water
3. Remind everyone to always bring a reusable bottle
4. Inspire other companies to also join the Dopper Wave

Greengiving is also part of the Dopper Wave.
Dopper Water Tap
Millions of disposable bottles are still used and thrown away. Dopper is fighting against this, and not only has reusable bottles in its range, but also invented this water tap. Companies and organizations can install the water tap in their (office) building, and encourage people to tap water.
Want to know more about the possibilities of the water tap? Go to the Dopper website and join the refill revolution!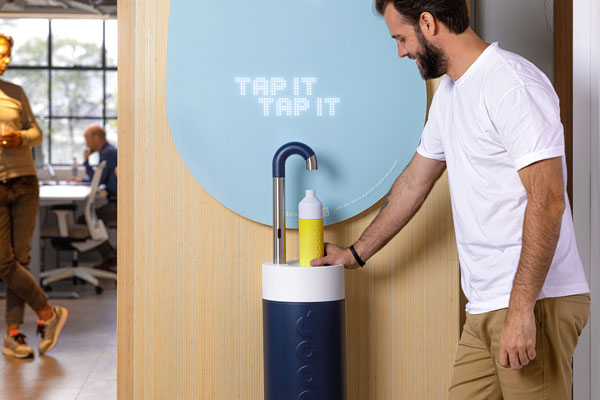 Awards and certifications
B Corporation
Dopper is a Certified B Corporation, which means they are committed to create a better world for employees, clients, suppliers, society and the environment.
Cradle 2 Cradle
The Dopper Original has a silver Cradle 2 Cradle certification, which means the bottle is made of materials that are safe for people and planet, and contribute to a circular economy.
GoodShipping Program
The Dopper Original is produced climate-neutral in The Netherlands. The Dopper Insulated, Steel and Solid Steel are produced in China. The shipping from China is climate-neutral thanks to the GoodShipping Program.
Other awards:
Red Dot Award 2013/2014, design award
Green Product Award 2016, German award for innovative sustainable products
Great Place to Work 2018, award for being a great employer