24 July 2020
reading time 4 min.
Eco gifts made of these sustainable materials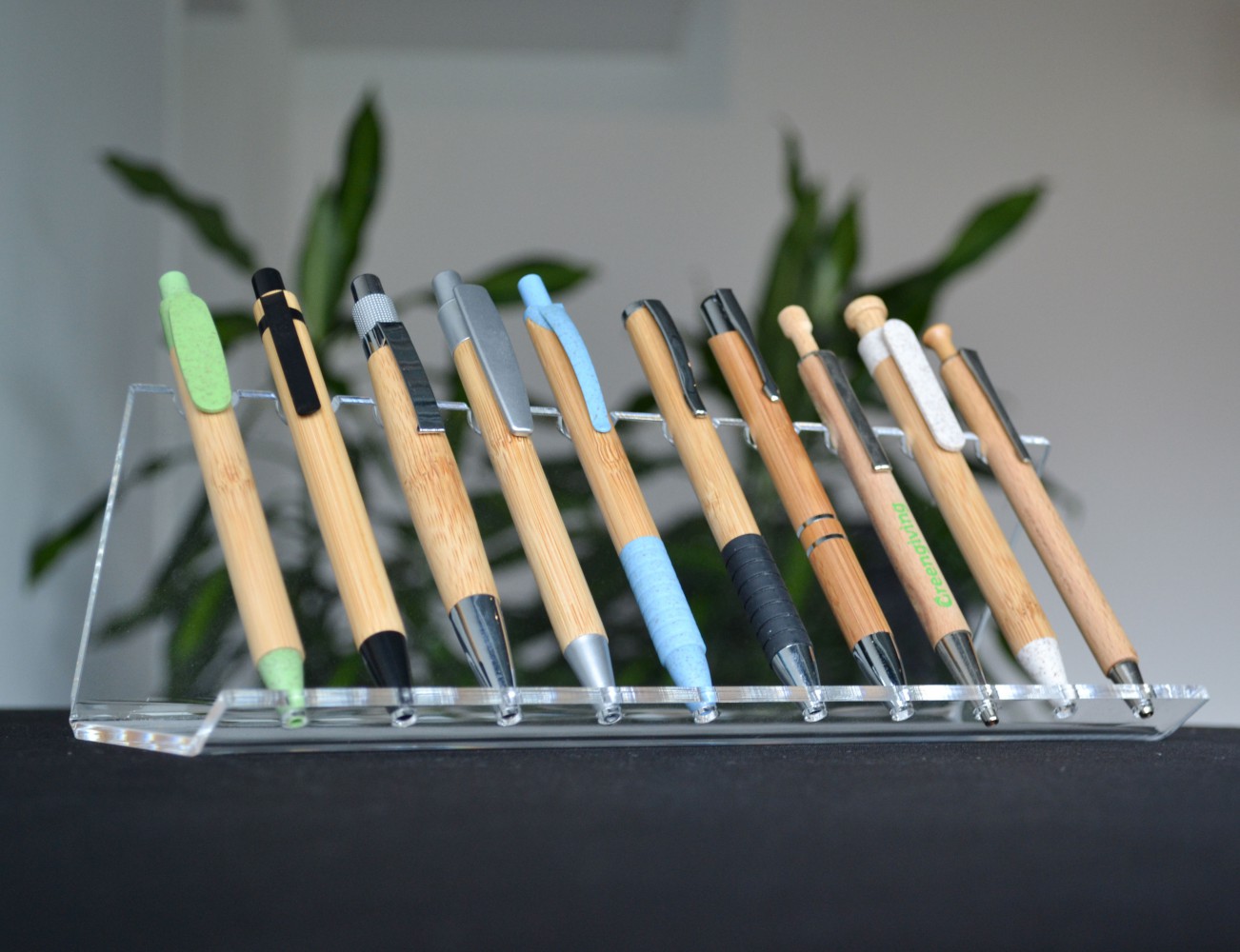 Greengiving
Products at Greengiving are in most cases made from sustainable materials that come directly from nature and are biodegradable. However, there are still some differences between those materials that are not always easy to explain in a product text. For example, what exactly is sustainable about wood, bamboo, cork, wheat straw, RPET, cotton or jute? These commonly used materials are all discussed in this blog. Read on!
1. Wood
Wood from sustainable forests is extremely environmentally friendly because trees absorb CO2 and produce oxygen. If every tree that is used is then replaced, you will not contribute to the deforestation of a certain area. With FSC-certified wood, you can be sure of this. The strength of wood makes it a popular material.
2. Bamboo (fiber)
Although many people think that bamboo is a type of wood, it is not. It is a type of grass, but one that becomes very high and strong and also grows very fast. This also makes it durable because it can be harvested in quick succession. In addition, it is naturally pest resistant and requires relatively little water. The versatile material can be used almost anywhere and we therefore have a wide range of bamboo products.
3. Cork
Cork is very durable because it comes from the tree but does not have to be cut down. Only the bark of the cork oak is harvested, after which new bark grows again. This makes cork an efficient, renewable source that also generates no waste. Cork is both recyclable and biodegradable.
4. Wheat straw
The word says it all: wheat straw is made from the remaining stems after harvesting wheat grain. Normally, the stems are burned, leading to air pollution, but when used they are again from a renewable source as wheat grows every year. When wheat straw is mixed with (durable) plastic, a sturdy material is created that requires less plastic than usual.
5. RPET
Recycled plastic or RPET saves on the use of fossil fuels in production. Also, less CO2 is emitted and water is used in the production of RPET than with plastic. How about all those millions of PET bottles that now have a second life instead of floating around in the plastic soup?
6. Cotton
The sustainability of cotton is increasingly doubted and that is not entirely unjustified. A lot of water is needed for the growth and production of cotton. Still, almost all of the cotton plant is used at harvest, so little is wasted. Furthermore, the material is always natural and biodegradable. When the cotton is Fairtrade or GOTS certified, you are assured of fair trade.
7. Recycled cotton
If you're looking for an even more sustainable alternative to cotton, recycled cotton is the way to go. This cotton consists of pre-consumer waste, which are snippets of clothes or other texile items. This fabric would otherwise have been thrown away. The snippets are being transformed into new yarn. By recycling existing fabrics and snippets, there's no need to plant and harvest new cotton. That saves lots of water, which is of course great. Discover our bags made of recycled cotton!
8. Jute
Jute fibers come from a plant in which the outer trunk and bark are used in production. The jute plant is ready to be harvested after only 4 to 6 months of growing and has a high crop yield. An efficient and very strong raw material! In addition, jute, like bamboo, does not require pesticides or fertilizers and only promotes soil fertility. Add to that the wear resistance of the material and it results in perfectly durable material for promotional gifts.
9. Hemp
We might have certain feelings and thought when hearing the word hemp. However, hemp is an increasingly popular raw material for the textile industry. Hemp is a fastgrowing plant that has very strong fibers. The plant has a small ecological footprint. Almost all parts of the plant can be used, for example for rope, paper and textile. Clothing made from hemp fibers is a great sustainable choice, because it has a long lifecycle thanks to the strong fibers.
10. Coffee grounds
Last but not least something you wouldn't think of as really useful, but that's not the case. Coffee grounds is a side product of each cup of coffee that is made. Since the world population is drinking lots of coffee, we've got lots of coffee grounds. In stead of throwing it away, it can be recycled and turned into for example note books.
You should now have a better idea of ​​what each material is and what it is made of. Many promotional gifts are made from (one of) these materials at Greengiving. Are you looking for a nice product of a certain material? Type the material in the search bar and all kinds of products of that material will appear. If you are unable to make a choice or if you have any questions, the product specialists are happy to help you!
Follow us on social media
Be the first to hear about our news