28 February 2023
reading time 3 min.
The most original Easter gift ideas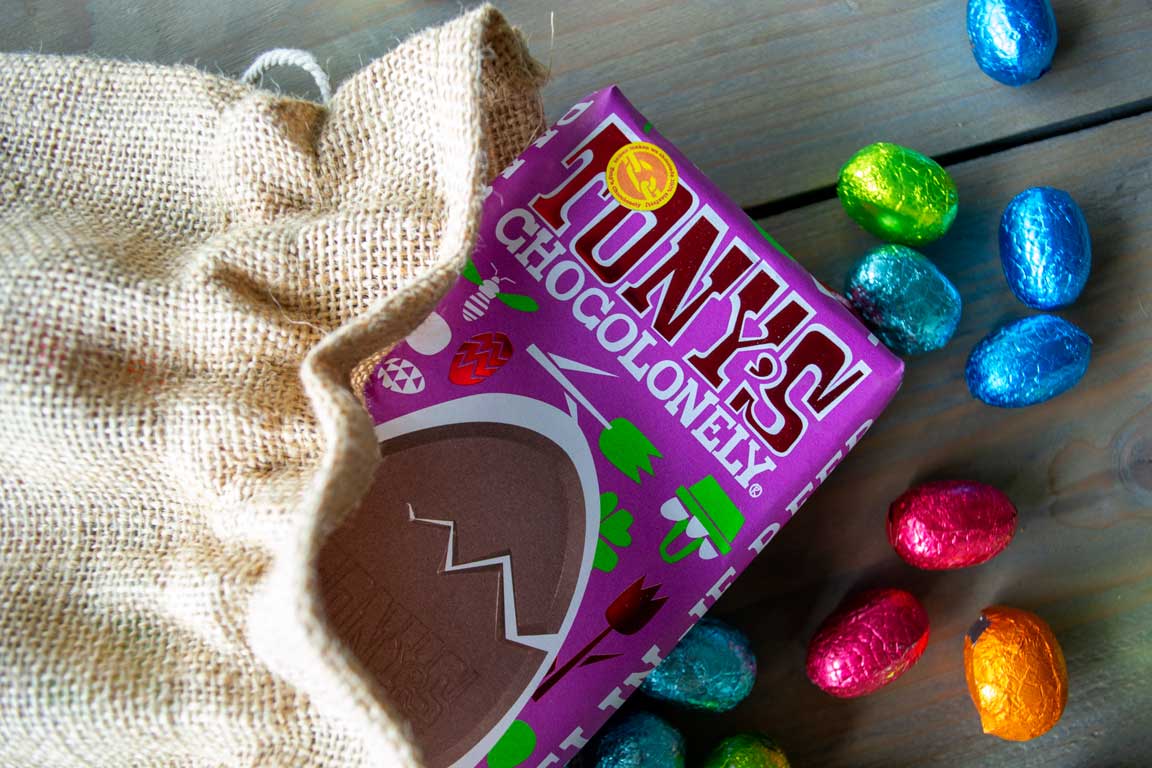 Greengiving
Have you ever wondered why we always give presents with Christmas and not so much with Easter? That's actually a bit odd. We've put together a list of gifts that are great to give away with Easter. No one is really expecting it, so that makes the surprise even bigger. Who are you going to surprise with an eco Easter gift?
Original Easter gift ideas for staff
In this blog you'll find our most popular Easter gifts, such as seed paper cards, cards with Tony's Chocolonely or gifts with Easter eggs. All Easter gifts can be printed with your logo or design. Surprise your staff, customers or prospects with an original Easter present!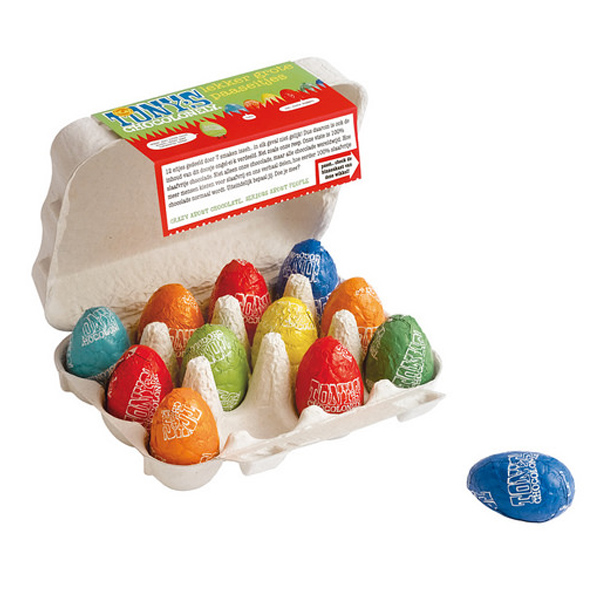 1. Tony's Chocolonely Easter Eggs
One of the best things about Easter are of course the chocolate eggs. When they are produced fairtrade and 100% slave free, the eggs are even more irresistable. That's the case with the Tony's Chocolonely Easter eggs. In the cardboard box you will find 12 quite large chocolate eggs, in 8 different flavours: milk, dark, noga, hazelnut, caramel seasalt, white, nuts seasalt and dark milk. You can also opt for a bag with Tony's Easter eggs. A real treat for every chocolate lover!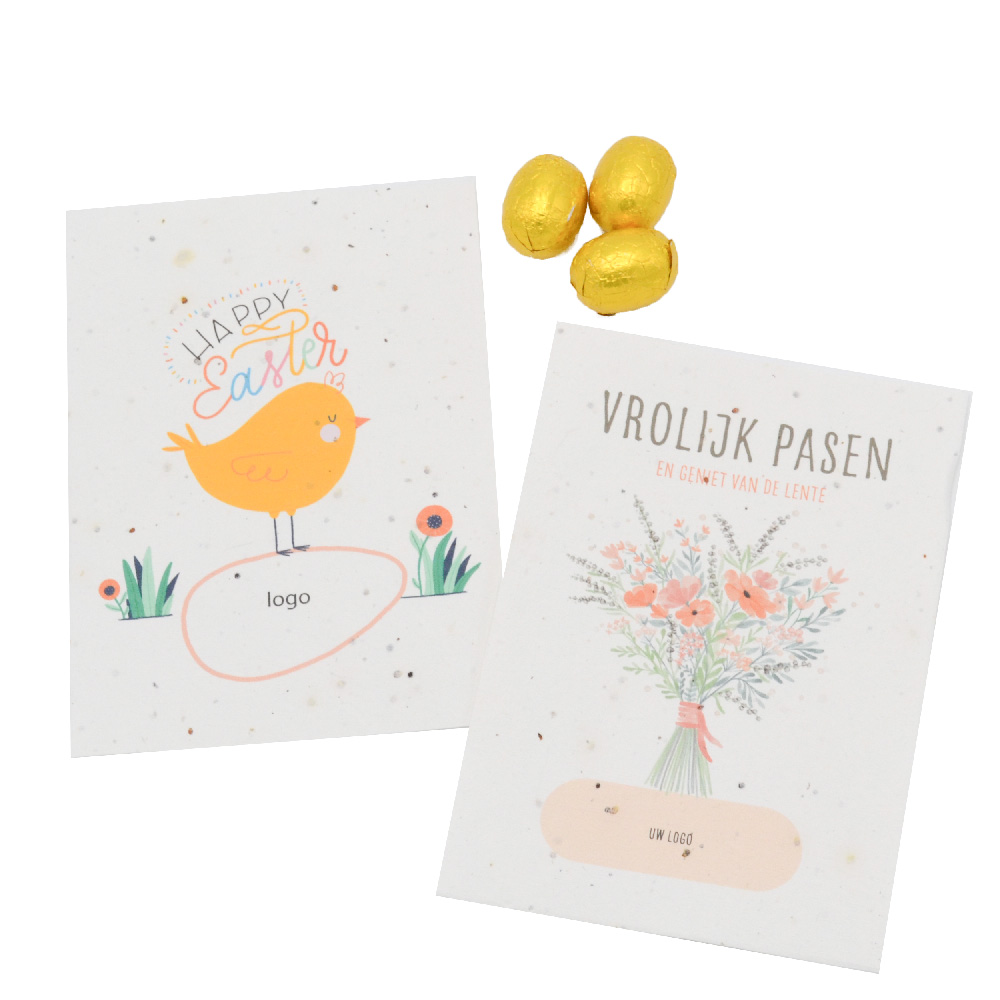 2. Seed paper Easter card (shaped like Easter egg)
You will always make people happy with a special, personalized card. For example a customised seed paper card. The card can be put into the soil and after a while beautiful flowers start growing. You can also opt for a seed paper card shaped like an Easter egg. That's even more special!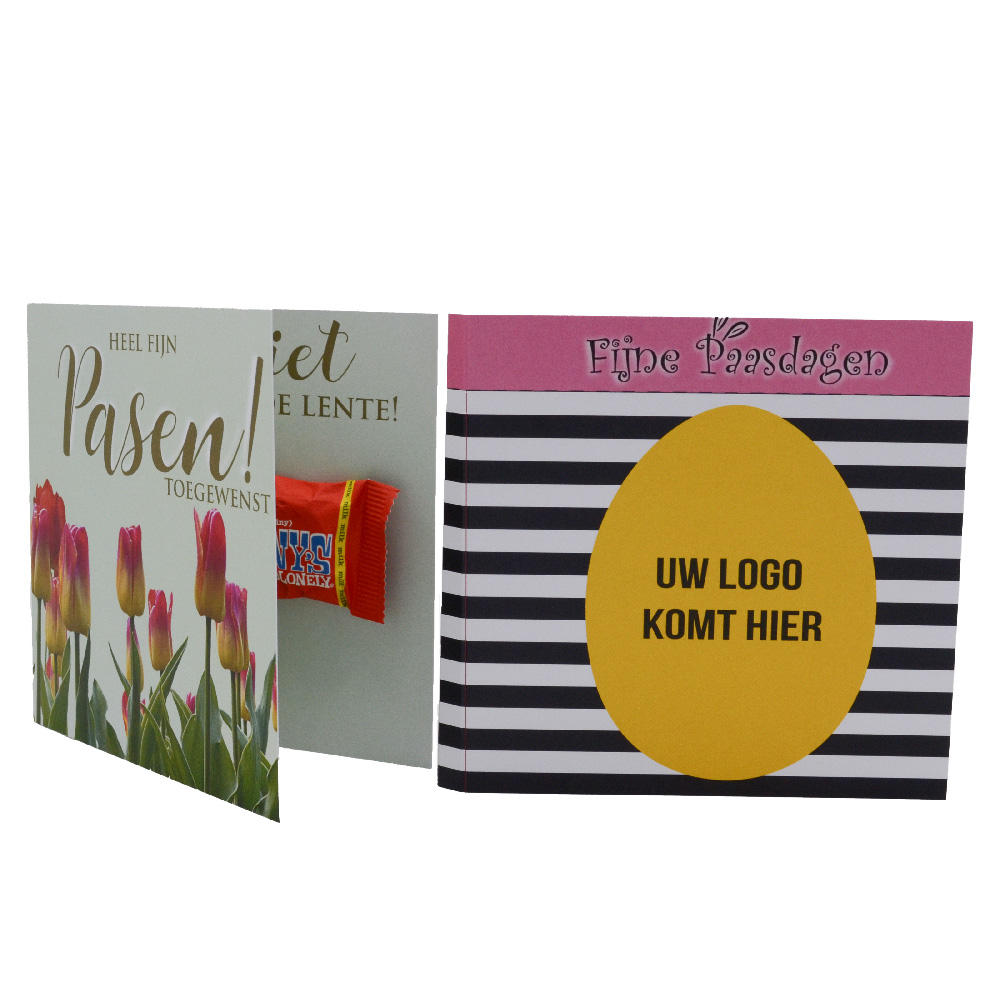 3. Easter card with Tiny Tony
Looking for a card with something delicious in it? Check out our special Easter card with Tiny Tony's or small Tony's chocolate bar. You can have the card fully customised with your own design.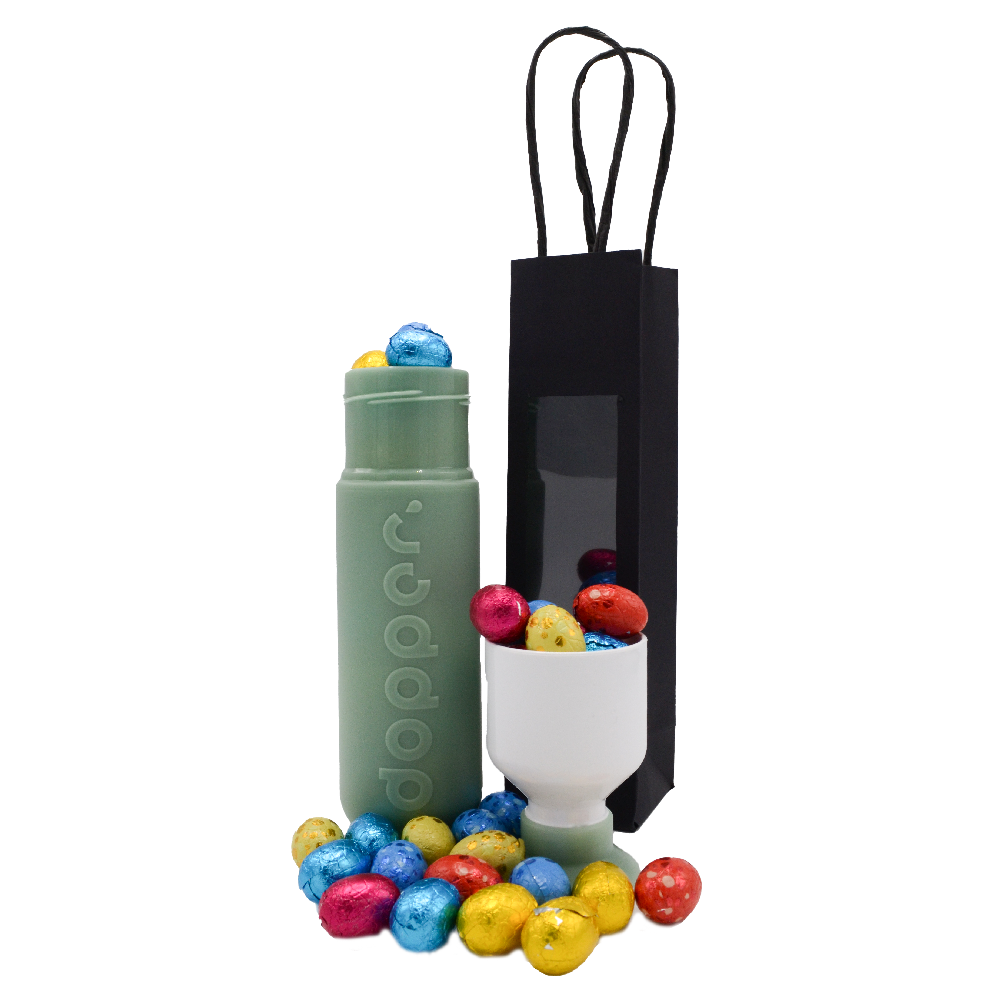 4. Dopper Easter gift sets
The Dopper bottle is still a popular giveaway. Choose for a yellow or green one, and it will match with the colours of spring. In our Easter gifts assortment you will find two giftsets: the Dopper Original filled with chocolate eggs, packed in a luxury black bag, and the Dopper Glass, also filled with Easter eggs.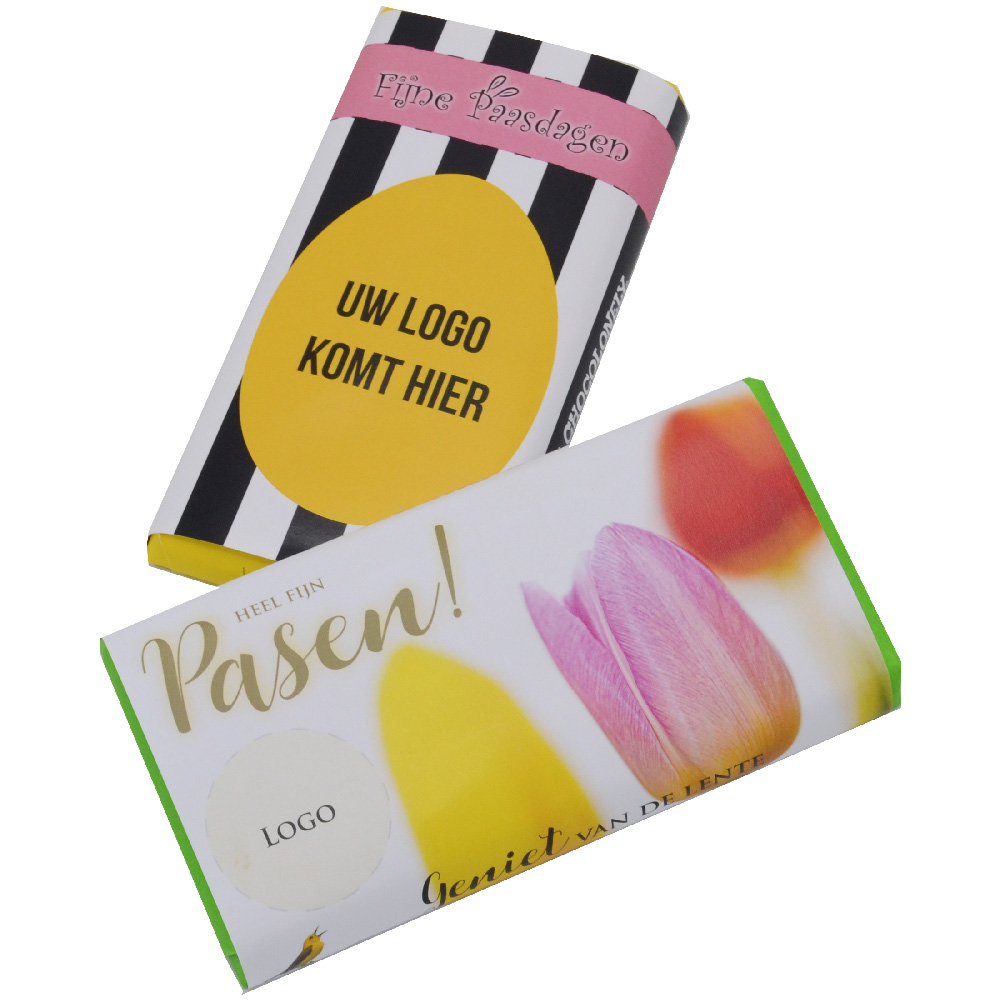 5. Tony's Chocolonely bars with (seed paper) wrapper
The famous Tony's Chocolonely chocolate bars are always great as giveaway. Especially with a full colour customised wrapper. For the large Tony chocolate bar (180 gr.) you can choose from 16 flavours. The small Tony chocolate bar (50 gr.) is available in 6 flavours. New in our assortment are the Tony bars with seed paper wrapper, which makes it of course an even more special gift.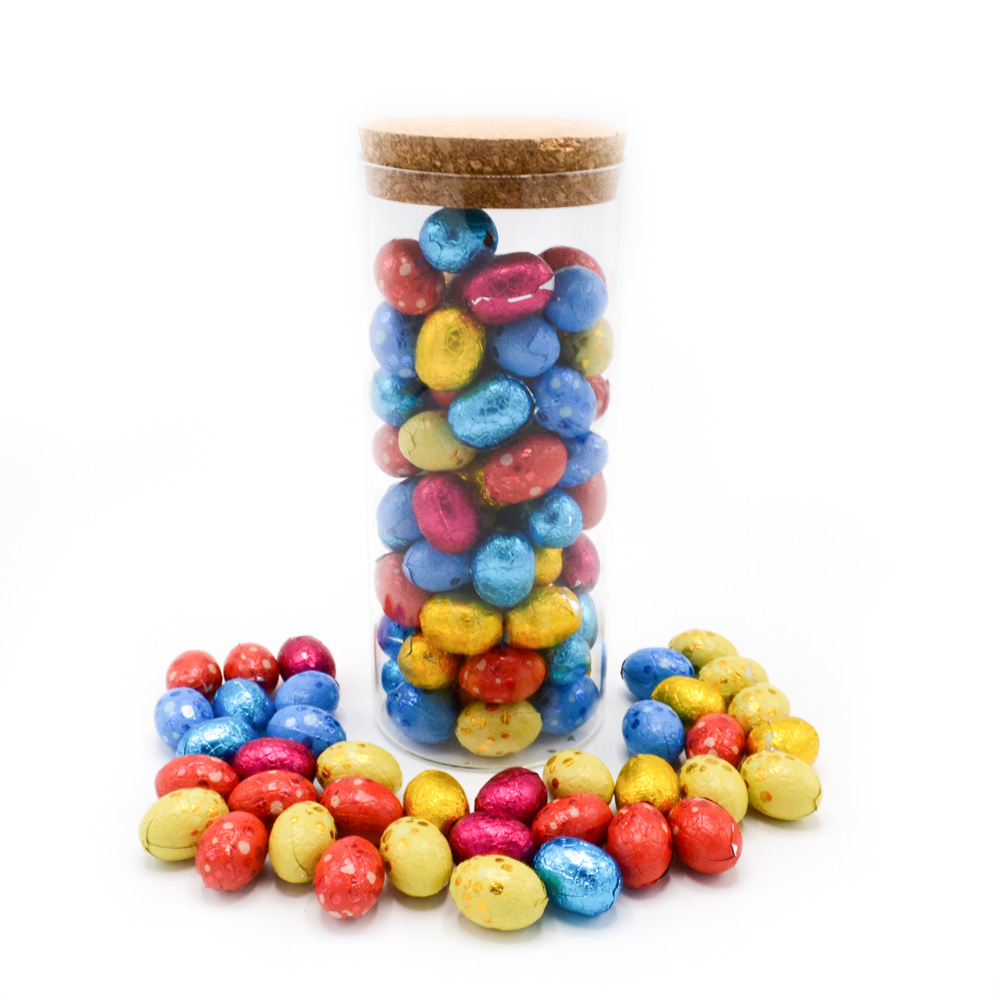 6. Original Easter gifts with Easter eggs
Apart from the Tony's Chocolonely items, you will also find other gifts with Easter eggs. For example the storage jar filled with Easter eggs or the bamboo travel mug with Easter eggs. All really nice gifts to treat your staff or customers.
7. Customised seed packets
Looking for an original way to convey your marketing message? Seed packets are the way to go! You can have them fully customised with your own design. The seeds can be planted and after a while, flowers or herbs start growing. Seed packets are the perfect green promotional gift.
Follow us on social media
Be the first to hear about our news