10 December 2018
reading time 3 min.
Original baby announcement card of seed paper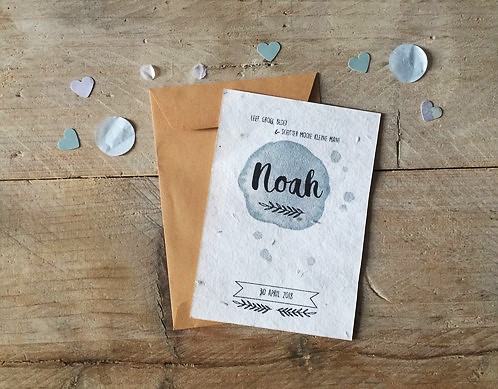 my-beloved.nl
A birth announcement card made of seed paper is definitely a special one. With such a card, people can turn your baby announcement into beautiful summer flowers. It's a perfect green way of announcing your little one!
What is seed paper?
Seed paper is an original, still quite unknown product. It's also called growing paper. With seed paper, you can make your message grow and bloom. It's available in either 120gsm or 200gsm paper, both are fine to use for cards. The great thing is you can have your own design printed on the card. That means the seed paper can be used for anything, whether it's as business mailing, invitation or birth announcement card. Most people throw away such cards after a while, but with seed paper that's not the case, because it can be planted. You can choose between different seed types, though the 200gsm seed paper always comes with seeds for summer flowers. Looking for more information? Check out our sowing calendar or our blog about seed paper.
How to plant your seed paper card?
Put the seed paper on the soil - outside in the garden or inside in a flower pot
Cover with some soil and water it every day
After some time you will see the seeds germinate
When watered regularly, you will see the seed paper turn into beautiful summer flowers
Seed paper is available from runs as low as 100pcs. Choose seed paper for your birth announcement card and you've got certainly something special that people will remember. Check out our page for printed seed paper cards. Any questions? Don't hesitate to send us an email or give us a call. We're happy to help!
Follow us on social media
Be the first to hear about our news