21 January 2020
reading time 4 min.
Client case: Anne Frank House and sustainable tote bags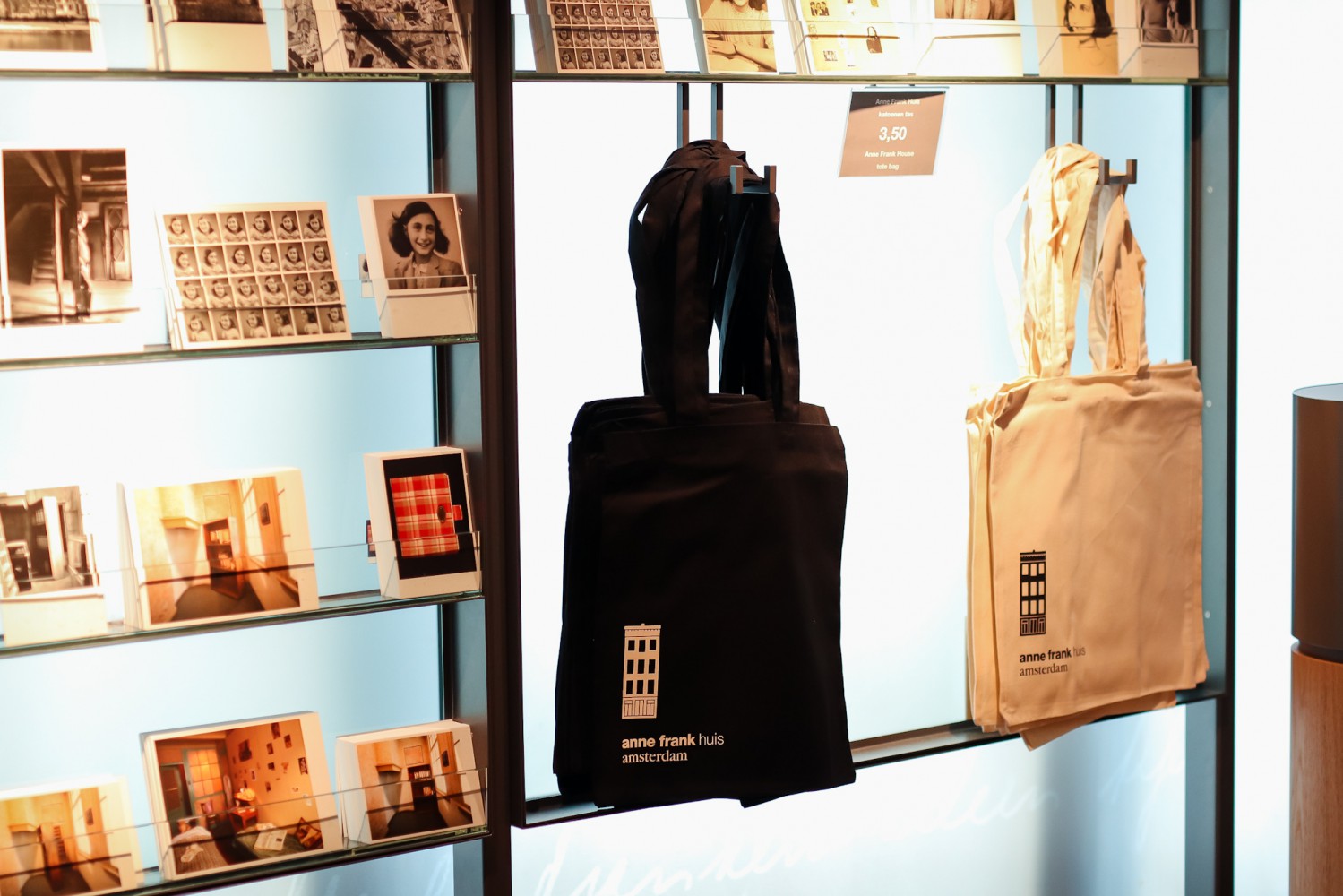 Greengiving
The Anne Frank House is known all over the world and is one of the most popular tourist attractions in Amsterdam. All these tourists come to see where a Jewish girl and her family spent part of the Second World War. The accompanying museum shop is crowded. Behind the counter we see something familiar, because there are the black and white tote bags that are sold by Greengiving. We get a personal tour of the museum and the shop of Joost de Wijer, manager of the book and museum shop, while he talks about his reasons for choosing cotton tote bags from Greengiving.
Obstacles
According to Joost, there is a great demand for souvenirs from the Anne Frank House. Nevertheless, the museum shop mainly sells books, because the Anne Frank House believes that the products should fit the messag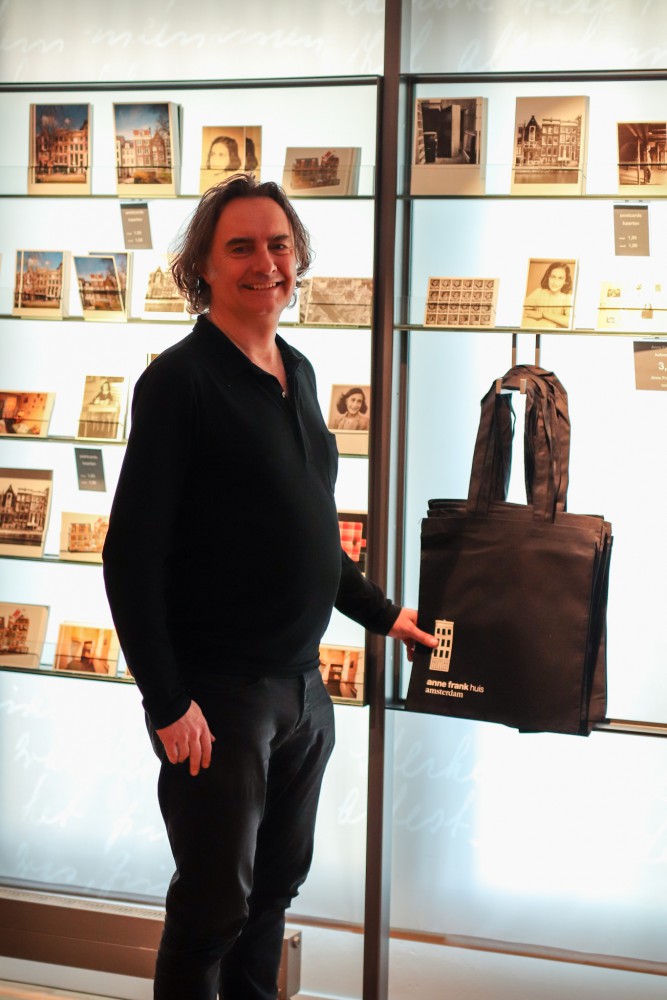 e of Anne Frank. The Jewish community also sees commercial exploitation as a threat, as a result of which the management is very selective in selling products in the museum shop. However, during his visit to a museum in London, Joost came up with the idea of ​​selling cotton bags. He then started searching the internet and ended up with Greengiving.
That did not quite go smoothly, because his plan fell apart when it was rejected because it was supposed to be too commercial. Joost: "Ultimately, the management conceded, because the Anne Frank House invests all its profits in projects to spread the message of Anne Frank and the money would be spent well. Education is important in spreading that message: group receptions, guest lessons at schools and even information to police officers are all part of our work." A lot more than you would think at first sight!
Upward trend
In the museum shop, most visitors look around and sometimes pay for a book, a card or a cotton bag. Joost: "Everyone is very enthusiastic about the bags. The museum shop has been renewed for a year and a half now and the cotton bags are hanging in a clearly visible place at the checkout. We therefore see a real upward trend in sales, which is nice. At the moment we are selling the bags in black and ecru, but we have to reorder the black version more often than the cream version."
Easy and convenient
When asked what the Anne Frank House does about sustainability, Joost looks a bit dubious. "As far as I am concerned, things are going way too slow here and the Anne Frank House could improve a lot in caring for the environment. Earlier, we used biodegradable plastic bags to package our products in, but they started to break down in the box, so that didn't really work. The cotton bags are really a solution, for that matter."

Joost is also very pleased with the quality of the bags. "They always look beautiful. Sometimes they come out of the box a little bit crinkled, but that is almost impossible to prevent. What we are particularly pleased with is how easy ordering is. After the first order it was just a matter of sending an email with how much you need and a few days later they are delivered smoothly. We really appreciate that convenience." Well, that's what we like to hear from our customers!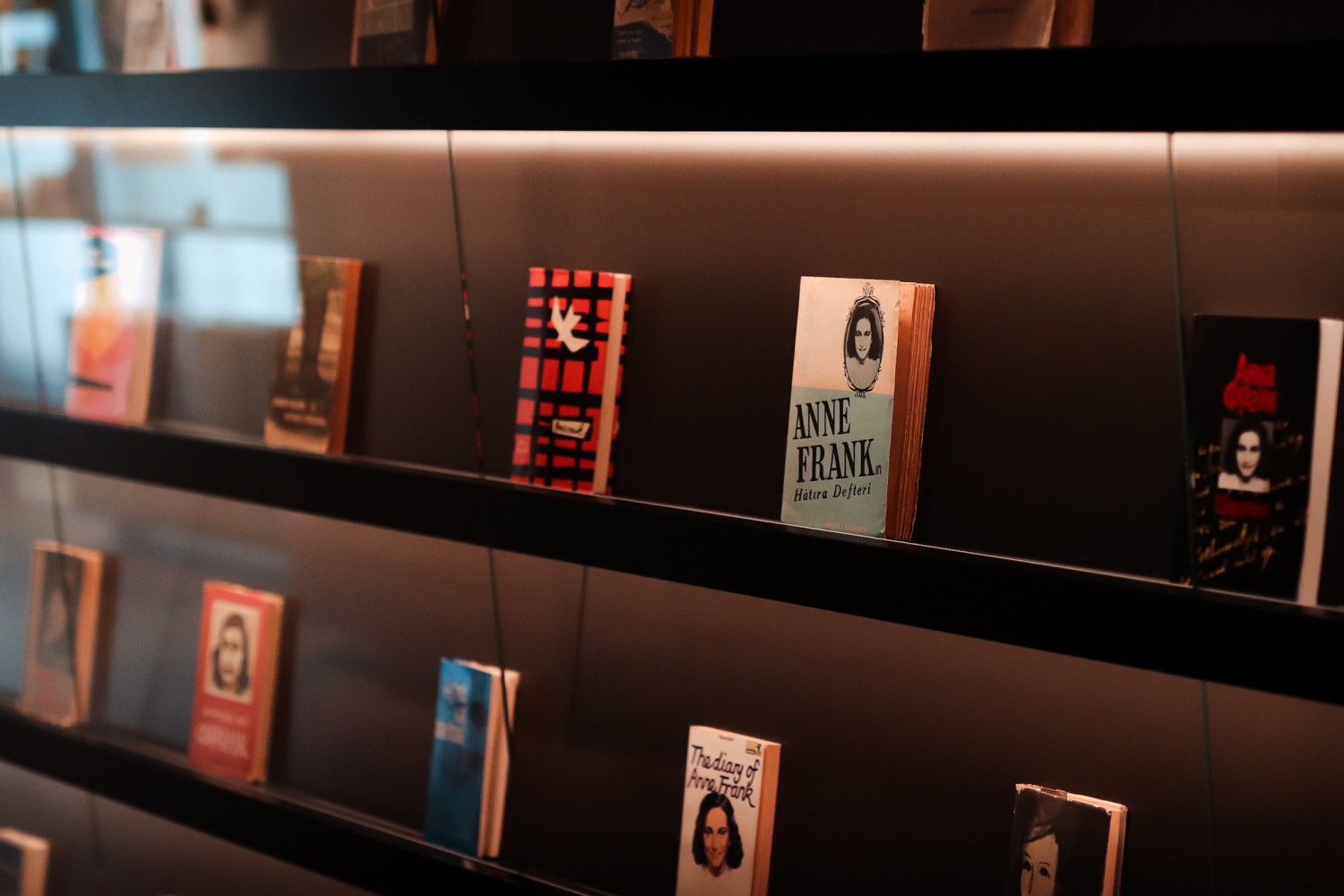 Follow us on social media
Be the first to hear about our news